A good rule of thumb to follow is to pick a medium-sized wall piece, which is at least 32 inches wide or high. This will give you plenty of room to get detailed, but still won't dominate the space. A larger piece, or "oversized," is over 41 inches wide and typically larger. The extra inches give the piece more weight and make it a focal point. A large-sized piece may also look best in an area where space is at a premium.
Styles of wall art

Several different styles of wall art are available in the market today. For example, there are traditional works of art, such as landscape paintings, and more contemporary and modern art. Modern art is a hybrid of different artistic styles and movements. The main focus of modern art is on experiments and warping of artistic perspectives, and combining colours and strong geometric lines. It often subverts traditional expectations. These types of art are typically large.
Different styles of wall art may complement one another. If you are going to place wall art over a piece of furniture, make sure the piece covers 60% of the surface of the table, and two-thirds of the wall. You want to create a focal point and complement the decor. However, you should also consider the purpose of a room before buying wall art. For example, you might not want a large abstract in your bedroom, but a large piece in the living room will fit in perfectly.
A popular style of modern wall art is botanical prints. This style is usually bright and colorful, and depicts the natural world. Natural wall art can also be used in other rooms, including the kitchen or bathroom. Bold tropical prints or colourful flowers can also complement natural themes. Choose a style that best matches the theme of your room. While there are hundreds of styles of wall art to choose from, a few of the more popular styles are as follows:
Watercolor art is a beautiful, delicate, and soft style of wall art. Watercolor art features flowing lines and exceptional color use. When purchasing a piece of watercolor wall art, make sure you pick a large one and pay attention to the color scheme. You can mix and match the colors in the art to create a cohesive, harmonious look. There are many great watercolor artists to choose from! If you are searching for a piece of wall art to hang in your home, watercolor artworks may be the perfect choice!
Placement of wall art in your home
Before buying artwork, determine where it will be placed. Is it going on the walls of the living room, the bedroom, the bathroom, the entryway, or the hallway? Choosing the right wall location for your art will help you decide which piece will look best. Remember that the placement of your art will impact how much attention the piece will get in that room. By considering these factors before purchasing the art, you can ensure that it will look great wherever it's placed.
Hanging art can be a tricky process, so plan your layout carefully. Begin with the largest piece and work your way down. Don't forget to consider the size of the pieces before you start drilling. Direct sunlight may fade a work, especially if it's on paper. For this reason, a picture light is recommended by art curator Martin Brudnizki. Angled ceiling lights can also help to light the key pieces.
You should also keep in mind the size and height of your wall and furniture. The rule of thumb is a height of about 57 inches. If you have a lower ceiling, you should hang the artwork in the third quadrant up from the floor. In addition, make sure to leave space between the wall and ceiling. This way, you can hang large works of art on big walls. Remember that the height of your wall should be sufficient for you to admire them from a distance. To ensure that the artwork is at the right height, hang it around ten or twelve inches higher than the lowest part of your furniture.
While choosing wall art, keep in mind its size. The standard picture frame is not necessarily standard. Large pieces look best when centered over the furniture, and they should be at least five to eight inches above the head. This is particularly important if the piece is going to be in the main living area. While the bottom of the art should be above your head, it is best to consider its position with regard to the size and shape of your furniture.
Choosing the right type of wall art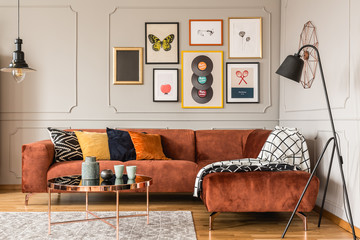 There are hundreds of different styles of wall art to choose from. Some of the most popular include modern, panoramic, and collage styles. The main thing to keep in mind when choosing a style of wall art is the real estate that it will take up. Make sure to take measurements of your wall space before you start looking for pieces. Remember to hang them at least 15 cm off the floor. And if you're planning to display more than one piece of wall art, you'll need to take measurements of each piece of wall art before you purchase it.
Whether you're buying for the walls or simply for the home itself, wall art will make a significant difference in the style of your home. Wall art not only sets the tone, but it also communicates your own personality. It also brings definition and dimension to a room and allows you to play with varying textures. Whatever style you're going for, make sure it matches the rest of your space and your personal preferences.
If you're looking for a piece of wall art to accent an existing room, keep in mind that smaller pieces will blend in and not make a focal point. Choose medium-sized pieces that are about 32 inches wide or tall. These pieces will allow for more detail than small pieces, while still not dominating the room. Larger works will take up the rest of the wall and be the focal point of the room.
For more casual homes, you can choose a piece of framed art. Many people choose prints. Prints make great decorations and add a more sophisticated look to any room. They are available in a variety of sizes and colors and can usually be matched with existing decor or color schemes. You can buy a single large piece or a collection of smaller pieces. It is important to take into account the color scheme of your room when choosing watercolor art.
Choosing a size of wall art
Before you choose a piece of wall art, it's important to figure out how much space the piece will take up. This can be done by measuring the height and length of the wall, and then multiplying the results by.57. Another method is to eyeball the coverage to find the right size for your wall. Depending on the size of the piece of wall art, you may even want to consider the size of the furniture surrounding it.
Choosing a size of wall art is often overlooked during the decorating process, but it is an important step. The wrong size of wall art can leave the room feeling cluttered and incomplete. Luckily, there are a few foolproof ways to measure for the correct size of a piece of wall art. Following these steps will give you the measurements needed for a piece of wall art that covers four to seven feet of wall space.
If you're considering hanging a piece of artwork over a bed or other furniture, you'll want to pick a large canvas print. It's impossible to fill an empty wall with a small canvas print, but a big one will be a stunning focal point. If your room is not quite big enough to accommodate a large piece of wall art, you can choose a smaller piece that sits alongside it, or group several smaller pieces together to form a gallery wall.
The second biggest mistake in choosing a size is hanging the artwork too high. Aim to have the center point of your piece of art at eye level, and you'll have a better idea of how high to hang it. To help you decide on the appropriate size, use the height of the average person at five feet and six inches. This is the general rule of thumb for wall art size. But if you want to avoid this mistake, there are a few tips that can help you make a wise choice.
Once you've chosen the right height for the piece of artwork, you can begin hanging it up. A good rule of thumb is to hang the piece of wall art approximately three-fourths of the width of the furniture. Also, it's important to hang it 6 to 12 inches above the furniture to create visual interest. You should also consider the other decor on the wall. Keep the sizes similar to avoid the room from looking empty and barren.