There are many ways to learn how to draw. You can practice sketching by doodling or through books. The key is to get the right kind of guidance to help you learn to draw. Here are a few tips for getting started:
Doodling
Drawing is a creative process, and doodling can help you refine your ideas as you go. Famous artists, writers, and musicians such as Alexander Pushkin and Fyodor Dostoyevsky all doodled images before they put them into writing. Even J.K. Rowling, a best-selling novelist, doodled images of the characters and settings in her novels.
Doodles are meant to be imperfect, and every drawing will be different from the one before. However, practice makes perfect, and it can be done anywhere, without wasting much time or materials. Drawing a lamp shade, for example, is an easy exercise. You can do this anywhere, and it will help you develop your style and technique. Doodling is a great way to practice a new skill and build up your confidence.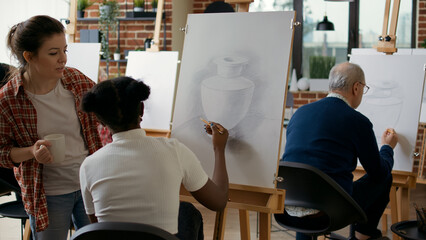 Besides being a good mental and physical exercise, doodling when learning how to draw can improve your creative output. It will also develop your hand-eye coordination, improve your memory, and stimulate your brain. By keeping yourself occupied, you'll be able to process information faster. So go ahead, practice your drawing! It's worth the time. Make sure you enjoy it! You can also practice with a doodling paper.
There are many benefits to doodling, from the relaxed atmosphere to the fact that it's a great way to learn. Drawing is an age-old skill that can help you think, communicate, and create. As you become more creative, you'll be able to draw with more purpose and focus. Doodling also helps you improve your mood. There are so many great benefits to doodling, and you'll soon be able to enjoy the process.
The cognitive processes that go into drawing are the same no matter what medium you use. However, there are differences in sensory-motor experiences and hand-eye coordination that can hinder your ability to draw. For example, your ability to draw with a black pen is much lower than your ability to draw with a touch screen. In addition, different media have different learning goals, so be sure to consider all the options when planning your lessons.
Online courses
If you've always wanted to learn how to draw but are afraid you don't have the talent to draw well, an online course can help you learn to sketch with ease. The teachers, Will Kemp and Chris Nolan, approach lessons in a friendly and enjoyable manner. They will guide you through every step of the drawing process and make it a fun and educational experience. In addition, they will show you how to apply principles of perspective and negative space to your drawings.
Many online courses teach drawing through videos that you can download and watch whenever you have the time. Most online courses will include both video and PDF guides so you can learn as you go. Because you won't have to commit to a specific time frame, you can take the course as often as you like. Moreover, if you're already a beginner in drawing, you can use the videos provided by the course to brush up your skills.
Another course that is highly recommended for beginners is the Ultimate Drawing Course on Udemy. This course has 64 class lectures and 12 sections. It teaches fundamentals of drawing, perspective, texture, and life drawing. Additionally, it includes a bonus video on drawing animation. You can take the course for just $18 and get a lot of information for a very affordable price. And best of all, you can take advantage of the discounted price if you want to learn how to draw.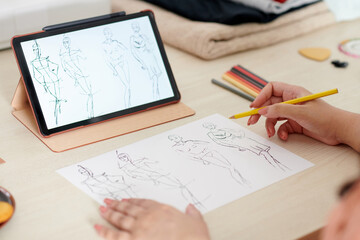 The 3D environment drawing course is also a great choice. This online course will show you how to use perspective to draw 3D environments. The course covers everything from basic perspective drawing to advanced drawing principles and shooting types in composition. The course is suitable for beginners and intermediate artists alike and will push your drawing skills to a professional level. The course is organized into five modules and features assignments to help you master the techniques.
Another excellent online course is Landscape Drawing, which focuses on enjoying the outdoors. You'll learn how to create a field sketch journal, sky-to-land-ratio, and how to draw landscapes. The course will teach you how to sketch a variety of scenes, including seascapes, countryside, and industrial scapes. The lessons also cover composition and shading techniques. This course is an excellent choice if you want to become a landscape artist.
Books
If you're looking for a book that will help you with your drawing skills, you may want to try a book by Betty Edwards. Drawing on the Right Side of the Brain is a guide for beginners and intermediate artists that will teach you how to create paintings using perspective. It also contains a variety of other helpful tips and techniques. You will learn how to make better drawings that will be appreciated by others. In addition to Betty Edwards's books, you may want to check out her website.
Among the many drawing books available, Drawing for Absolute Beginner is an excellent choice. This book teaches you the basics of sketching, measuring, and mapping essential elements in a drawing. The book also teaches you how to use value cues to create realistic-looking drawings. However, it's important to understand that learning to draw realistically requires trial and error. It is also crucial to read and understand a book that teaches you how to draw.
Another great book for beginners is The Elements of Composition. This book will walk you through drawing primates, birds, and seals. While the author discusses the differences between drawing realistically and attempting to create realistic creatures, this book is ideal for students who wish to learn more about the process of drawing. Whether you're a beginner or an advanced artist, you'll find inspiration and guidance in these books. There are many other great books for beginners.
Children's drawing books are an excellent way to introduce them to the fundamentals of drawing. Drawing is a great way for children to learn while having fun. Many drawing books are also educational and will teach children about different subjects. Drawing will improve hand movement and improve your child's handwriting. It's also an excellent way to inspire your child's imagination and intelligence. Invest in a good drawing book for your child and you'll never look back.
One of the most important things to know about drawing is how to render light and shadow. Understanding how light affects objects will help you learn how to render value properly. Light for Visual Artists by De Rayna is an excellent intro guide to the subject. It will show you the basics of light and shadow as well as how to use multiple sources of light. Ultimately, drawing is a much simpler process than painting, so it's worth investing in a good book to learn how to draw.
Unleashing your imagination through drawing
Drawing helps you unleash your creativity. It helps you discover your passions and your intellect. Drawing also helps you relax and unwind. Drawing is a fun way to connect with the world around you. By engaging your senses, you can create a beautiful work of art. You can also draw your house, capturing the details of its structure and dimensions. And if you're a beginner, drawing is a great way to learn how to draw.
There are no limits to your imagination when it comes to drawing. Start with ordinary objects or create a world of your own on paper. You'll be surprised how many creative ideas will come to you. Drawing lessons are available online and in magazines. Try one of them and you'll soon discover how fun it is to express yourself. And remember, drawing is free from any limitations. So, you can create as many drawings as you want.